Bike Camp Catalonia:
1 week of MTB holidays with guided tours at the Costa Brava in Spain!
Catalonia is the insider tip for nature trail fans and for mountain bikers who appreciate the pure nature experience and prefer it over shaped, laid out routes.
The Bike Camp participants can look forward to 5 fascinating bike days with guided MTB tours in a magnificent landscape and to a great accommodation, family atmosphere and holiday apartments located directly at the sea.
Bike Camp Apartments in a dream location: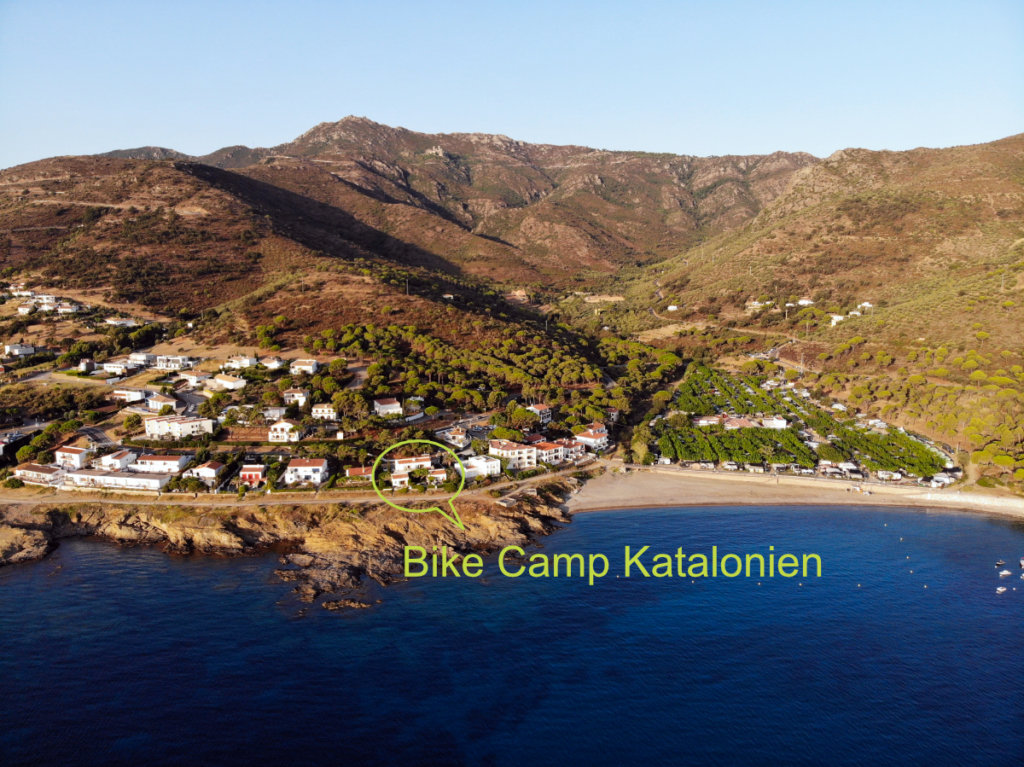 Small, family-run resort with a total of 6 apartments, in the front row right at the sea!
Each apartment has 2 bedrooms with 2 beds, 1 living room, 1 small kitchen and a bathroom with sink, shower, toilet and a large shared terrace and garden with stunning views of the sea, the mountains and El Port de la Selva.
The apartments are quiet and deliberately very simply equipped (no TV)
Bike washing facility on the property
Car parking grill
The holiday apartments are clean, cozy and stylish (typical Catalan furniture)
If you want you can cook yourself in the evening, or you can eat together. Distance to the nearest beach, 1 min walk
Next bar / restaurant and a small supermarket, 2 min walk, at the nearby campsite
Other restaurants and shops, etc., in the fishing village of El Port de la Selva, distance 2 km
You are interested in the guided bike tours with Belchenradler in Catalonia, but you need no accommodation in the Camp Apartments because you are arriving by camper, or prefer your own accommodation? We would be happy to make you a suitable offer. Contact
You are a group of cycling friends and you are interested in the bike camp, but you want a different date? No problem! Individual desired dates are possible all year round on request.
A group discount (from 4 people) is also available on request. We would be happy to make you a personal offer.
Feel free to contact me: 
The Cap de Creus is a 13,886 ha natural park and forms a peninsula that extends over 10km into the Mediterranean Sea. The foothills of the Pyrenees fall here partly rugged into the sea and form an almost epic, unpopulated landscape. The town of El Port de La Selva, on the edge of this natural park, where the Belchenradler Bike Camp apartments are located, has fortunately largely preserved its original charm of an old fishing village and was spared by building sins.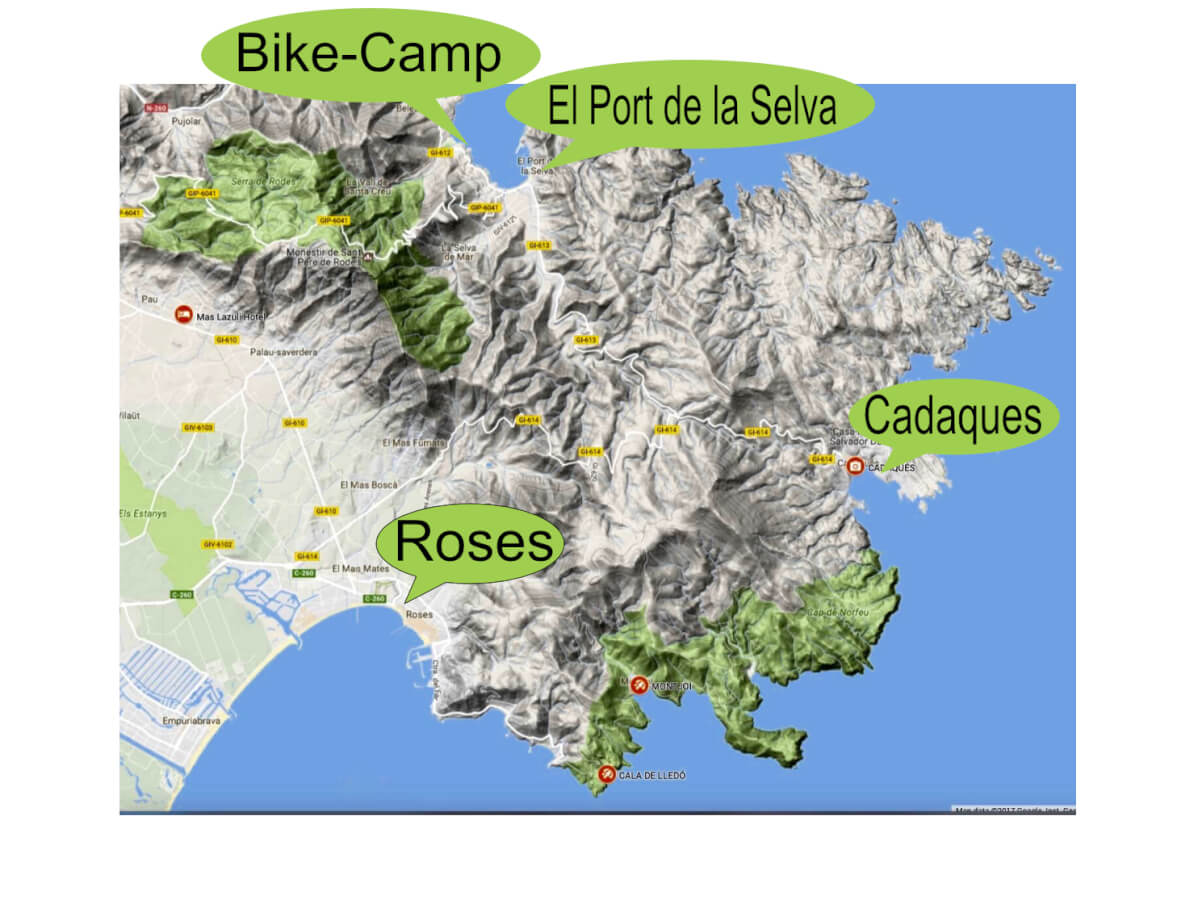 In terms of mountain biking, the region is still largely untapped and a real insider tip for MTB individualists. Official map material / Trailmaps, e.g. are not existing and who ever simply drives on, lands quickly in the nowhere … It took me years to find all the hidden routes and trails in the region and to pack these unique trails in well balanced tours. Belchenradler is looking forward to offering you these collected treasures in the Bike Camp Catalonia.
Level 2 / Slightly Advanced
The nature experience and the safety of the participants is always in the foreground at Belchenradler, not the thrill!
The daily stages of the bike camp tours are between about 30 and 50 km and 800 -1200 hm. Useful for participants is bike experience on nature trails with the difficulty level to S2 (click: singletrack scale). The natural trails in Catalonia are often offset with roots, rocks and loose rocks / boulders and sometimes blocked. Example S2 Trail: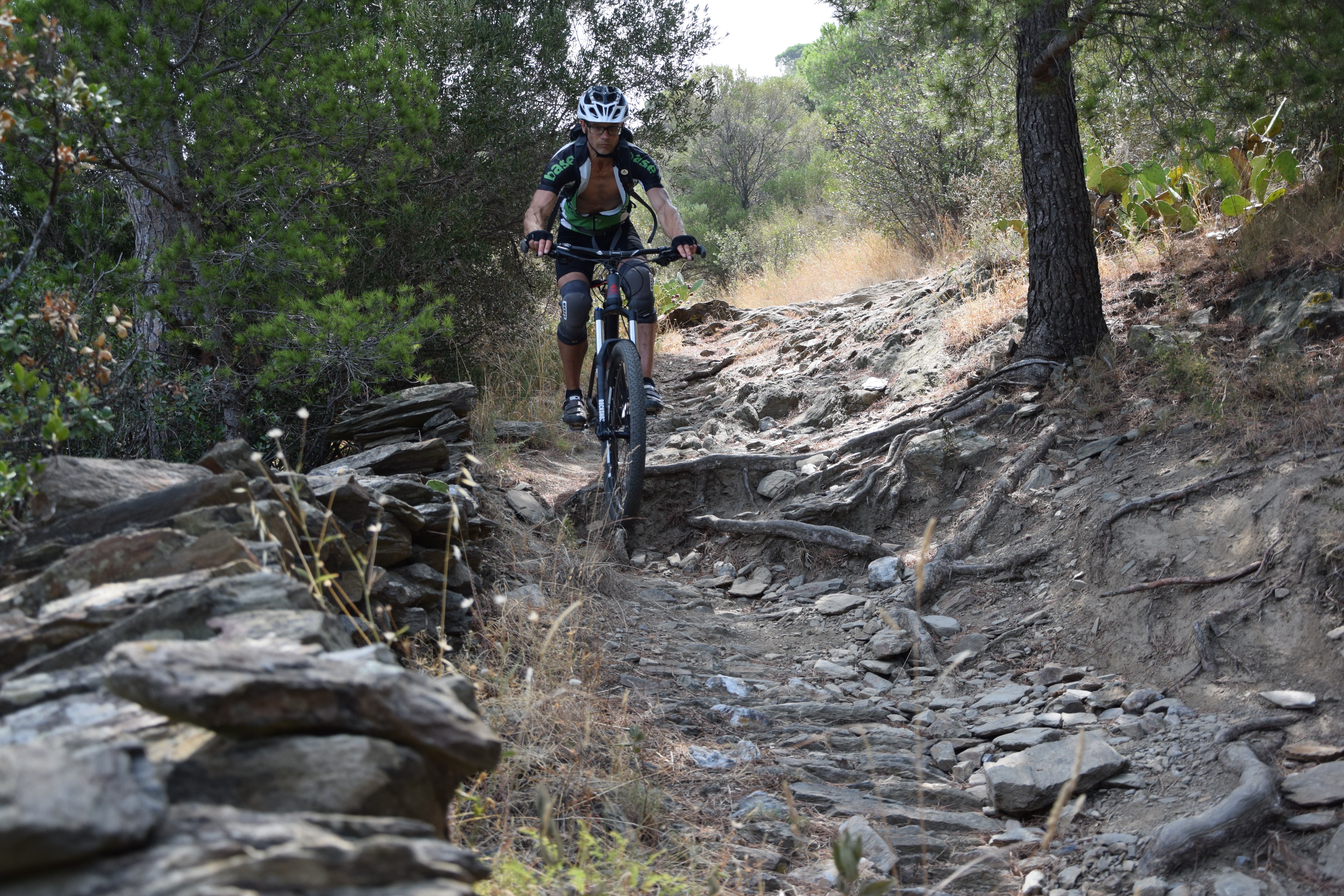 No one has to prove himself or anything to the others. It is recommended – in sections where you do not feel safe always push the bike. Safety first! A healthy self-assessment is always required. Protectors for elbows and knees are especially recommended for less experienced participants.
The Bike Camp Catalonia always includes "driving technique on tour" units. Certain passages will be explained and driving techniques can be practiced "safely" together in the group.
At the Cap de Creus the nature trails are often provided with loose rocks and sharp-edged rocks. Also, the entire Mediterranean vegetation is extremely prickly. This places high demands on the bikes and especially on the tires.
Especially ideal in Spain have been the last few years "tubeless tires". Equipped with sealing milk they are far less prone to breakdown in an environment where practically every plant has spines! If you are traveling with a hose, you should definitely have enough flick material and sufficient spare hoses. Tip: Sturdy All Mountain or Enduro tires are a bit heavier but offer better puncture protection than super light cross-country tires.
Ideal for the bike camp in Catalonia would be a not too heavy Fully. A trail bike, or an all mountain with 130-150mm travel front and rear, is quite enough. If you have a light Enduro, you can use it as well. Hardtails are also possible, but require the driver on pre-blocked slopes a lot.
Riders with e-mountain bikes are welcome in Bike Camp Catalonia. But for uphill they have to adapt to the speed of the unmotorized participants.
Just in time before departure, each participant receives a packing list with equipment and spare parts recommendations.
Program – Bike Camp Catalonia:
Arrival day
"Hola" – Belchenradler welcomes you to Spain! From 5 pm welcome aperitif & welcome of the participants. Obtaining the individual apartments
Address in Spain:
Carrer Port de la Vall 5
Urbanization Perabeua
17489 El Port de la Selva
Further photos see "Apartments / Accommodation" above
From 19 clock, dinner together (cost), discussion of the processes for the upcoming Bike Camp week
9.00-10.00  Belchenradler-breakfast
10.15  Bikecheck
10.30  Start of the first tour: " Camin Ronda – Cadaques"  (30,8 km, 843 hm)
We ride the bikes along the coast and make a small "driving technique on tour" unit, in which we discuss the main driving technique basics and get used to the stony terrain. In the fishing village of El Port de la Selva we drive up the mountain into the middle of the Natural Park. First on wide trails that allow you to climb the altitude with a moderate slope easier, then on great trails. Via the Camin Ronda we come to Cadaques, where we take our lunch break.
Freshly strengthened, a conditionally demanding trail takes us back to the mountains of Cap Creus. A beautiful and technically challenging single trail leads us back to El Port de Selva and our apartments.
We have a dinner together at a nice local restaurant. With a glass of wine or beer on the apartment terrace, we let the shared experiences of the first day pass over – of course with a great view to the sea …
9.00-10.00  Belchenradler-breakfast
10.30  Start tour 2: "Dolmen-Roses-Tour" (42,7km, 1200hm)

We drive to the old "Selva de Mar" and from there on wide, but scenic routes with only moderate slope – very relaxed – up the mountain. Once at the top, there is a fantastic view of the "Gulf of Roses". We now have the option either to turn off on an interesting singletrail, or to choose a conditionally and technically easier variant. We cross the road to Roses and drive uphill to the Puig Alt. First, we are still on wide trails on the way to gain as relaxed as possible altitude. If it goes downhill towards Roses, there will come some singletrails. These are quite demanding. Often rocky, with loose rock and partly blocked in the area up to S2. If someone is feeling uncomfortable, of course you can always push your bike and we will also do little driving technique units. Safety first!
Here we can visit millennia-old "dolmens" along the way – simple stone lodgings of the natives from the Bronze Age.
We drive down to Roses to the sea, where we take our lunch break in a beach restaurant and strengthen ourselves for the next climbs in the afternoon.
First, it's still in Roses along the coast, before it goes uphill towards Puig Alt again. We drive a short distance that we know from the outward journey already from the other direction, before we turn on a single trail direction Perafida Pass. Once there, we have the option for the return to El Port de la Selva to drive uphill in the Park Natural Cap Creus, or we drive – if all tired – just directly on the small road down to Selva, back to our apartments.
Dinner at a nice local restaurant. 
9.00-10.00 Belchenradler-breakfast
10.30  Start Tour 3: St. Pere de Rodes – Llanca (30km, 816hm)

We climb the rise of our apartments by the sea to the nearly 600hm high monastery St.Pere de Rodes on a small, little busy coastal road with many serpentines. Again and again it offers a breathtaking view of the mountains, the sea and the bay of El Port de la Selva. We gain in altitude and have a fantastic view to the north-east on the often snow-capped peaks of the Pyrenees. To the southwest, the view extends far into the park Natural Cap Creus. The road just below the St. Pere de Rodes Monastery runs almost flat for a while, allowing our legs to rest a little after the exhausting climb.
The highest point of today's tour is the little chapel Santa Helena. From there you can see the entire Gulf of Roses with its miles of sandy beaches to L'Escala.
Now we are on the next 13km down to Llanca only on natural trails. Partly on simple, wide trails, partly on singletrack mostly in the area S1-2. In the old, historic center of Llanca we make our well-deserved lunch break in a restaurant on the central village square.
In terms of altitude, we have already done the most for today and so we can relax on the way back. First, we drive to the port of Llanca and take a look at the new, quite touristy district. In order not to laboriously go from bay to bay in a constant up and down of stairs and sand, we once again briefly use the coastal road to Selva. Soon, however, we turn off again towards the sea and drive the last 5-6 km to our apartments on a beautiful nature trail always along the sea.
Dinner at a nice local restaurant. 
9.00-10.00  Belchenradler-breakfast
Today is regeneration day! Who does not know that? You book a cycling holiday for a week, you are highly motivated and you give everything, every day. But instead of getting better in terms of fitness, you drive yourself more and more into the basement during the week. If you come weakened instead of relaxed back home to your cold country, you catch a cold even promptly. The benefit of the entire training week is gone … But we do it different in our bike camp. Sports doctors are completely safe about it. The body needs to become better, also mandatory breaks to regenerate.

The day today is free for everyone. The area has many options and Belchenradler is also happy to give you tips:

Those who like to look at cities can, for example drive to Figures (30km). There is the world famous Dali Museum. The next largest district town is Girona (68km) with countless shops, Tappa bars and a beautiful old town. Barcelona is 130km away. But even the small towns nearby have their own special charm. Wednesday is always a weekly market in Llanca. The picturesque Cadaques is, at least outside the main season, a real gem. Roses has endless sandy beaches and waterfront promenades, as well as many small shops. El Port de la Selva (30 minutes on foot / 10 minutes by bike) of course you have to have seen – where we will certainly eat more often.

If you do not want to give up cycling on this day, I can recommend a small, conditionally not demanding "recovery tour" with only a few kilometers and altitude. Either in the old center of Llanca, after Selva de Mar, or to La Vall. Above all, the last two villages are like from another time: La Vall – completely without cars, the streets are simply too narrow and too steep. Or Selva de Mar with its central washing area for washing clothes by the stream.

If you like walking, there are countless, really great tours, for example. on a path up to St.Pere de Rodes, or up to the castle ruins.

And – last but not least – of course, on this day, the opportunity to just lazy on the beach, in a small quiet bay, or on our beautiful apartment terrace, to unwind the soul … ; )
Because everyone has time to run errands, this evening would be perfect – if there is interest – for a common barbecue on the terrace.
9.00 – 10.00  Belchenradler-breakfast
10.30  Start tour 4  Cadaques – Far de Cap de Creus "Lands End"  (41,7 km, 1215 hm)

Well recovered after a day break, we drive from Selva back uphill in the park Natural Cap de Creus. Arrived at the Mas dels Bufador (an old deserted homestead), we turn off on a single trail that is initially easy, but later steep, interlocked and relatively demanding (S2). For individual passages, it is recommended to push briefly. Savety First! A healthy self-assessment is always required. Most of the parts of the trail are easy to drive in the area S1-2. Again we do some little "driving technique on tour" units.
The trail leads us directly to Cadaques. From there we take the small coastal road to Far de Cap de Creus, the extreme end of the Cap de Creus. This is the easternmost point of Spain and thus a kind of "land end" of the Iberian Peninsula. It opens up an increasingly breathtaking landscape – as if from another world. You do not have to be esoteric to feel that this is a very special place on earth, it effects you and you can hardly escape. At Far de Cap de Creus there is a restaurant that is as unique as the place itself. On the terrace with a fantastic view, we have our lunch break. There are delicious Tappas and fish, but also Indian dishes.
Strengthened and recovered, we drive back towards Cadaques and turn off at Port Ligat on nature trails in the Park Natural. At first, the paths are still wide and allow us to gain relaxed altitude with a moderate gradient. Once at the top, we drive again for a long time on great singletrails that finally bring us to St. Baldiri, an abandoned former monastery, which we briefly visit. After that, we'll be on our way back to El Port de la Selva and our apartments, with some tired legs. But the last 5-6 km it is fortunately only a relaxed downhill on wider, natural trails.
Dinner at a nice local restaurant. 
9.00 – 10.00  Belchenradler-breakfast
10.30  Start to our last tour 5: Perafida – Montjoi – Cadaques – Selva de Mar (53,7 km, 1420 hm)
Our last bike camp tour will be such a big hit again! It requires a lot of both, conditional, as well as driving technique. At 53km in length and over 1400m in altitude it is the numerically most exhausting tour of the week. But do not worry – the two longest climbs were deliberately chosen in this tour so that they are easy to handle: We drive from El Port de La Selva from the little-used road, with a moderate slope in the predominantly single-digit range, up to the Perafida Pass. From there it goes uphill and we come to a beautiful, super-narrow singletrack which is mostly easy to navigate and only a few, short sliding passages uphill. Then we come to wider nature trails that lead us back to the Puig Alt direction Roses. This time we do not drive to the dolmens but turn left earlier towards Montjoi and the sea. There is a descent with two great trails, the first of which is even easier and flowiger in the area S1-2. The second one is a really demanding enduro trail that also includes some S3-4 switchbacks, where it makes sense for most people to briefly descend and push down. Savety First!
We come in the Cala Montjoi directly on the sea out of the mountains and can now take a break in a nice beach bar and have a drink. Then the route takes us along the sea for a while. We can choose between a narrow singletrail and a slightly easier to drive, wider route. Then we drive down to Cadaques, which we approach today from the south.
In the village we look for a nice restaurant and take our lunch and have a break. After all we now have already 35 km and almost 1000 hm in the legs. We need all of our strength now for the last, larger uphill  from Cadaques to Perafida. After that uphill we are lucky that it becomes easy again and further we are mostly staying at the same height, direction Roses. It follows a last small increase on a natural path, then we have made it in terms of altitude and can look forward to a descent. This leads and first on a wide path and then on a beautiful S1-2 Trail to the old Selva de Mar. Once there we drive through beautiful old streets with natural stone floors and can – if we want to – have a stop in the central village bar "Filipp". Back to our apartments it rolls then, thanks to a slight slope on the last 2-3 km, almost by itself …
Dinner at a nice local restaurant. 
Departure day
8.30 am-9.30 am Belchenradler Breakfast
Unfortunately, even the best week ends sometime. We pack our things, have breakfast together again and then everyone goes home. The apartments should be vacated by 10.30. If you liked it, you can look forward to the next Bike Camp Catalonia with Belchenradler again!
With the approval of all participants, a Dropbox will be set up, in which photos + videos from the Bike Camp will be made available to all participants for download as a nice reminder.
Adios and see you next time! Kind regards, Belchenradler