New in 2020: The Road Bike Camp Catalonia
One week of road bike holiday with guided day tours at the Costa Brava in Spain!
Similar to Bike Camp Catalonia, Belchenradler offers the Road Bike Camp Catalonia in 2020! The Road Bike Camp includes 5 fascinating road bike  days with guided day tours on dream roads, in a breathtakingly beautiful, mediterranean landscape. The participants can look forward to a great accommodation, 7 nights, Belchenradler Camp Breakfast and wonderful apartments, directly at the sea. The perfect combination of road bike cycling and relaxed vacation in a quiet, family atmosphere! A true Belchenradler insider tip for road bike individualists, far away from the Mallorca mainstream …
Small, family-run resort with a total of 6 apartments, in the front row right at the sea!

Each apartment has 2 bedrooms with 2 beds, 1 living room, 1 small kitchen and a bathroom with sink, shower, toilet and a large shared terrace and garden with stunning views of the sea, the mountains and El Port de la Selva.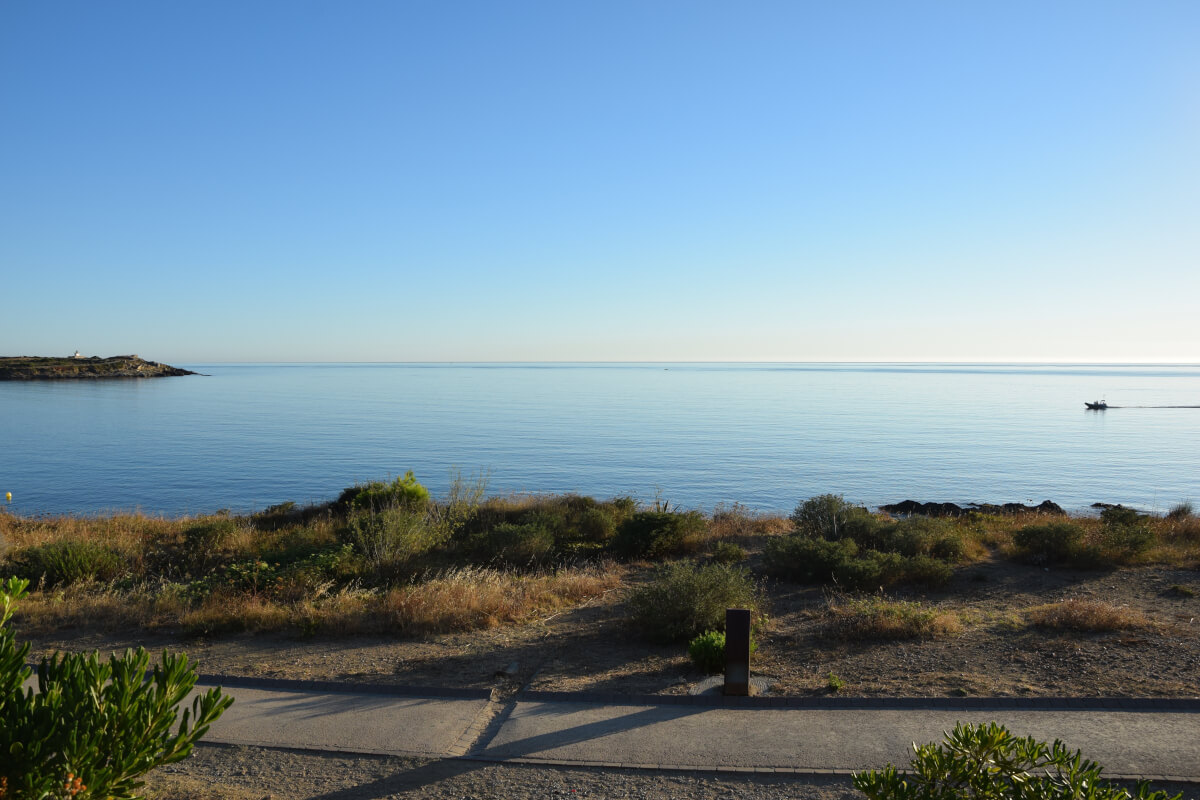 The apartments are quiet and deliberately very simply equipped (no TV, no Wi-Fi)
Bike washing facility on the property
Car parking grill
The holiday apartments are clean, cozy and stylish (typical Catalan furniture)
If you want you can cook yourself in the evening, or you can eat together. Distance to the nearest beach, 1 min walk
Next bar / restaurant and a small supermarket, 2 min walk, at the nearby campsite
Other restaurants and shops, etc., in the fishing village of El Port de la Selva, distance 2 km
You are interested in the guided road bike tours with Belchenradler in Catalonia, but you need no accommodation in the Camp Apartments because you are arriving by camper, or prefer your own accommodation? We would be happy to make you a suitable offer. Contact
You are a group of cycling friends and you are interested in the road bike camp, but you want a different date? No problem! Individual desired dates are possible all year round on request.
A group discount (from 4 people) is available on request. We would be happy to make you a personal offer.
Feel free to contact me: 
There are places in the world that magically attract you. Located just 30 km south of the French border, El Port de la Selva in Catalonia, which I have visited over 30 times over the last decades, is such a place. It is for mountain bikers, as well as for racing cyclists a real insider tip!
The starting point of all racing bike tours are our Road Bike Camp Apartments, located right on the seafront and on the edge of the Park Natural Cap de Creus. This forms a peninsula which extends over 10km into the Mediterranean Sea. The foothills of the Pyrenees fall here partly rugged into the sea and form a downright epic, unpopulated landscape with beautiful coastal roads. Lying on the edge of the natural park, El Port de La Selva, where the Belchenradler apartments are located, has fortunately largely preserved its original charm of an old fishing village and was spared by building sins.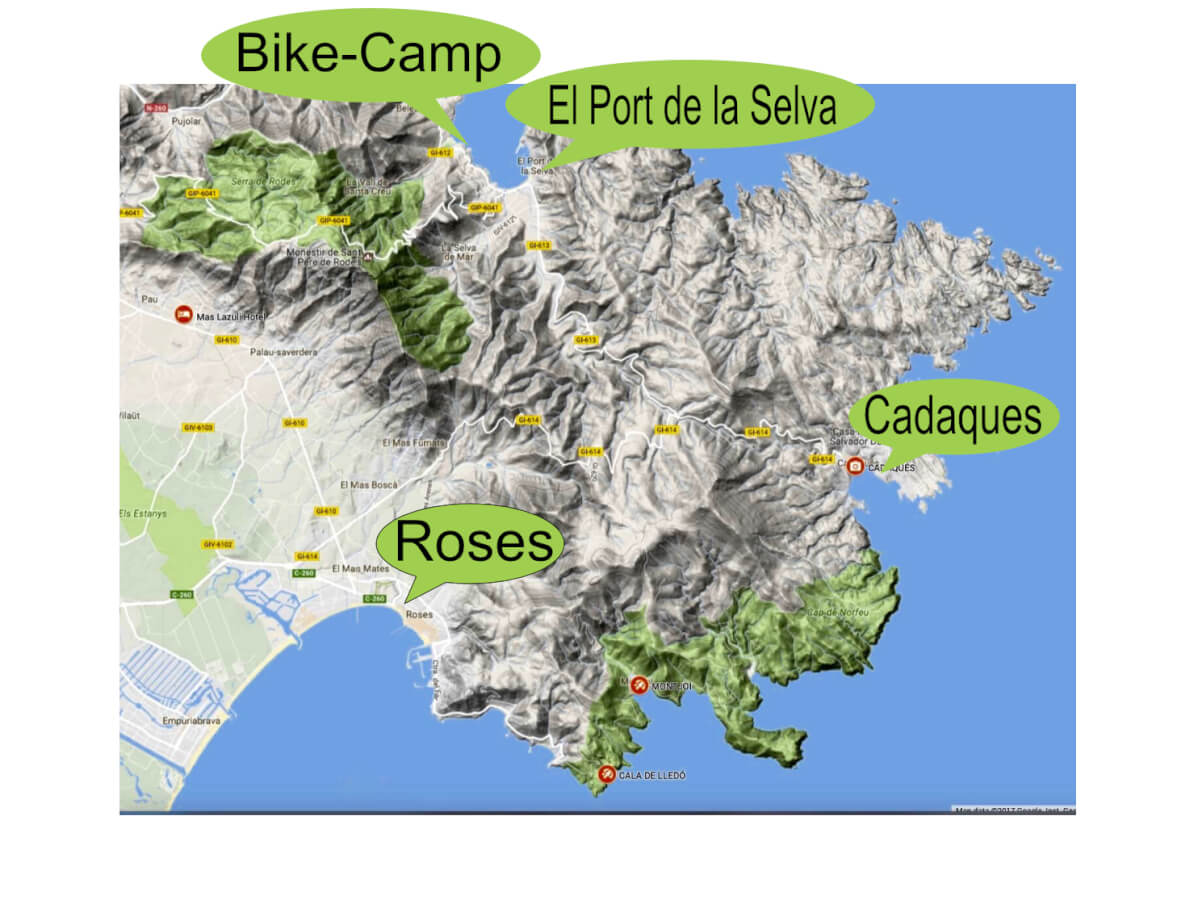 In terms of racing cycling, the region has long been appreciated by connoisseurs. Cycling professionals live here, professional teams train here. The most famous, many years living in the region professional was Lance Armstrong. However, Catalonia is still THE insider tip for connoisseurs & road bike individualists, without all-inclusive bike hotels where  x-thousand road cyclists pass through every season. It took me a few years to find the most beautiful, hidden dream roads in the region and to pack them into meaningfully tours. I am looking forward to offering you these collected treasures in my Road Bike Camp Catalonia. Kind regards, Belchenradler – Christof Steier
Level: Hobby and recreational riders / pleasure drivers
The Road Bike Camp Catalonia is aimed at hobby & 
pleasure drivers 
who have the desire in their well-deserved holiday week, to go  just quite relaxed on beautiful tours. It is not aimed at competitive athletes who need 150km and more to be happy! The daily stages of the road bike camp tours are usually between about 70 and 90km, at 800 – 1400 hm. Individual tours can be a bit more extensive in coordination with the participants. However, the pace is always low and there is always enough time for breaks to eat, drink, take pictures and just to enjoy the scenery.
The area on the Cap de Creus, where the Pyrenees partly steeply fall into the sea, is fast becoming mountainous in the back. And the tours have proportional to the track usually a lot of altitude. Therefore, a compact crank with enough light climbs should be the right choice for most hobby drivers. Even riders with e-racing bikes are welcome in the racing bike camp Catalonia. But uphill they have to adapt to the speed of the unmotorized participants. Just in time before departure, each participant receives a packing list with equipment and spare parts recommendations. In about 25 km away Figueres there are 2-3 neatly sorted cycling shops for spare parts and possibly also for the option of rental bikes.